Today FIFA released the the October 2013 FIFA World Rankings that will be used for the drawing for the World Cup 2014 in Brazil. Right now the USA is ranked 13. If the trend stays consistent with how FIFA worked in the past with basing teams from the different confederations into the same pot, the USA should be in Pot 2. Pot 2 usually consist of the Asian confederation and Concacaf (USA confederation). Still with only 21 spots out of the 32 taken so far, I decided to see if I can predict or give idea who the USA will face in the group stage using
a simulator
. [Use a translator for this site].
Test 1----> 4/10 (10 being best case scenario for USA)
Argentina, USA, Cameroon*, Croatia*
The first time I ran the simulator, the USA was placed into a very tough group with Messi & Co. (Argentina), Cameroon*, and Croatia*. I find this group very hard to win or come in 2nd. USA has had its fits with African teams in the past (Ghana, anyone). Cameroon fields a very strong team with players coming from some of the best leagues in the world that can compete and win with no questions asked. Also, Argentina is one of the favorites entering the World Cup (
mainly due to Messi IMO
) and should have a very large contingent of fans in Brazil making almost any game feel like an away match. Croatia and USA will probably be fighting for one of the meaningless 3rd or 4th spots in the group.
Test 2----> 8/10
USA, Switzerland, France*, Nigeria*
The second time around the USA found itself against one of the best Pot 1 teams to face, Switzerland. Don't get me wrong Switzerland (7 wins, 3 draws in UEFA World Cup Qualifying) is not a team to look down on but considering that the UEFA group they were in was weak and the high possibility of World Cup jitters, Switzerland might be the best Pot 1 team to get. Nigeria* and France* are the other two teams that were selected. Nigeria have plethora of English Premier League Talent and should be a tough test. For some odd reason, I like the USMNT chance versus France. I think France is great time but USA is more adapted to play against European teams that revolve around build-up of play and less on free-flowing and match the style of play more so than free-flowing South American teams and African teams. I think the USA has a legit shot at winning the group and if not coming in 2nd and still advancing.
Test 3---> 1/10
USA, Netherlands, Colombia, Ivory Coast*
This might be the dreadful Group of Death for USA. The simulator is assuming the Netherlands will stay in Pot 4 and groups the USA with Pot 1 newcomers Colombia (another one of my favorite teams), and Ivory Coast* from Africa. Netherlands are one of the favorites entering Brazil after playing well in qualifying and having a fearsome attacking force as well as playing a very free-flowing style of play which is somewhat different from other European teams. Colombia has turned around into a great team. They last played in the World Cup in 1998 France and since that time a lot of political and civil unrest has hindered the team from becoming another great South American team. This time around the Colombian team has quality throughout the pitch and will be hard on USA especially when they have to keep an eye on the ever-omnipresent
Falcao
. Lastly, Ivory Coast* has some great talent that can win balls back in the midfield and score from just about anywhere near the 18 yard box. I can see the USA being demolished and placed in 4th in group and maybe 0 points earned.
As you can see not until the playoff matches occur in the November will the USA have a better idea who they will face because of non-qualified teams in Pot 1, 3, & 4. Another big issue is where in Brazil will they play. Preferred places to play are close to coast and as far south as you can go. The further you go north and inland the team will have insufferable humidity and heat. I'll run another simulator post once the playoff rounds end in November and before the December drawing.
These draws might seem very 'debbie downer' esq but I certainly am high on the USMNT teams chances in Brazil to make to the knockout round and maybe into the quarterfinals. USMNT just needs to remain healthy and in form and they will have their chance which is the only thing the team will want.
Final Note: #YoureWelcomeMexico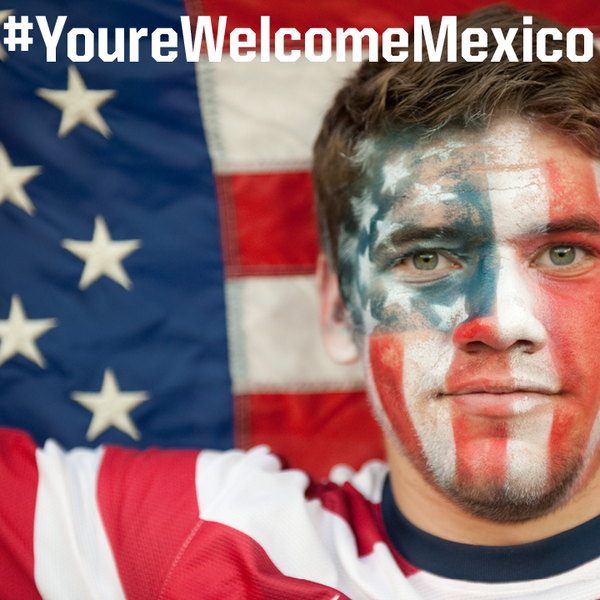 Yup.
*Teams haven't qualified for World Cup but are considered favorites to win the playoff matches in order to qualify.