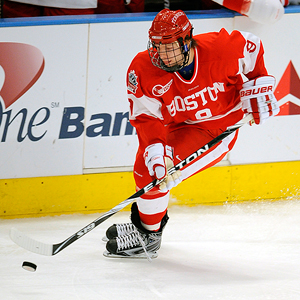 According to the Boston Hockey Blog
twitter
, junior forwards Alex Chiasson and Justin Courtnall have been named the two assistant captains for the upcoming campaign. They join senior Chris Connolly (Captain) as the letter-wearing players for this season.
Chiasson, a Dallas Stars prospect, has put up 53 points (21g, 32a) in 70 games for BU. Courtnall, who was selected in the 7th round of the 2007 draft by the Tampa Bay Lightning, has put up 6 points (3g, 3a) in 53 games for the Terriers. While Chiasson is obviously the more proficient scorer, both have been praised by Coach Parker for their competitiveness and their desire to win.
In other hockey related news, BU was picked to finish second in Hockey East by the league coaches. You can check out the press release
here
. BC was picked to win the league, with BU, Maine, UNH and Merri-hack rounding out the top 5.
With all this hockey talk heating up, you know the season is just around the corner. Be on the lookout for some predictions and previews as the season nears closer.