This is the third part in a series of posts about BU's 2013 Senior Class. Be on the lookout for a new post each day, culminating with Wade Megan on Friday. You can read part one on Ryan Ruikka here, and part two on Ryan Santana here.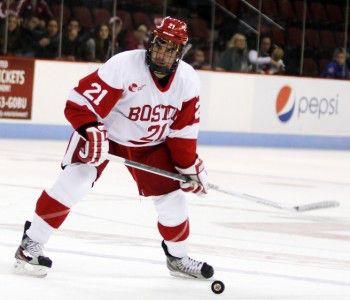 During a
BU hockey behind-the-scenes video
from last year, Sean Escobedo jokingly said he was actually filming "E! True Hollywood Story: Rags to Riches." It may have been more accurate, however, to replace Rags to Riches with Jake Moscatel's suggestion: "I'm a Sweet Beauty."
Prior to arriving on Comm Ave in the fall of 2009, Sean spent one a season in the USHL with Sioux Falls and then Tri-City, registering 17 assists in 59 games. Between 2006 and 2008 he played in the EJHL with the New York Apple Core, the same EJ team that Matt Gilroy played on prior to his arrival at BU.
Sean stepped right into the starting lineup as a freshman, playing in all 38 games and tallying 3 assists - one of which came during the inaugural Frozen Fenway against BC. Scoobs doubled his point total during the 2010-2011 season as a sophomore, putting up a goal (his first collegiate goal) and five assists.
Escobedo's "breakout" season came as a junior in 2011-2012, when he put up career highs in goals (3), assists (10) and points (13). Sean's role on the team expanded during the course of this season, as he saw time in all even strength and special teams situations. Coming into this past season, Coaches Parker and Bavis
stressed to Sean
that he needed to stay out of the penalty box and play a bigger role as a leader on the team. Sean responded with arguably his best season as a Terrier, playing in all 39 games and accumulating 2 goals (including this
spin-o-rama highlight reel goal
against Vermont) and 9 assists while only registering 44 penalty minutes - his lowest total since his freshman year. He was on the ice in every situation imaginable - penalty kill, power play, four-on-four, five-on-five - and was easily the Terrier's most consistent defensemen. He led the conference and the country in blocked shots with 107 - a testament to Sean's toughness and desire to do anything to help the team.
Perhaps Sean's lasting legacy at BU will be his sense of humor. Known amongst the team as the "class clown," Sean is notorious for his easy-going nature. One of our favorite Scooby story came from our interview with
Jake Moscatel and Matt Ronan
: "Jake – Just in general, I like when Scoobs jokes around with coaches. He likes to use "Hey coach, did you get dressed in the dark today?" And he likes to take stuff that coach says and say it to other guys. Like "Oh are your ears painted on?"
It's a safe bet that Sean will continue his hockey career post-BU, as he was
invited to Islanders camp
last summer. If that doesn't work out though, he could definitely become a
blogger
comedian. Probably should stay away from modeling though:
#cuteemergency @seanesco21 twitter.com/WhattapSnake/s…
— Jake Moscatel (@WhattapSnake) March 27, 2013