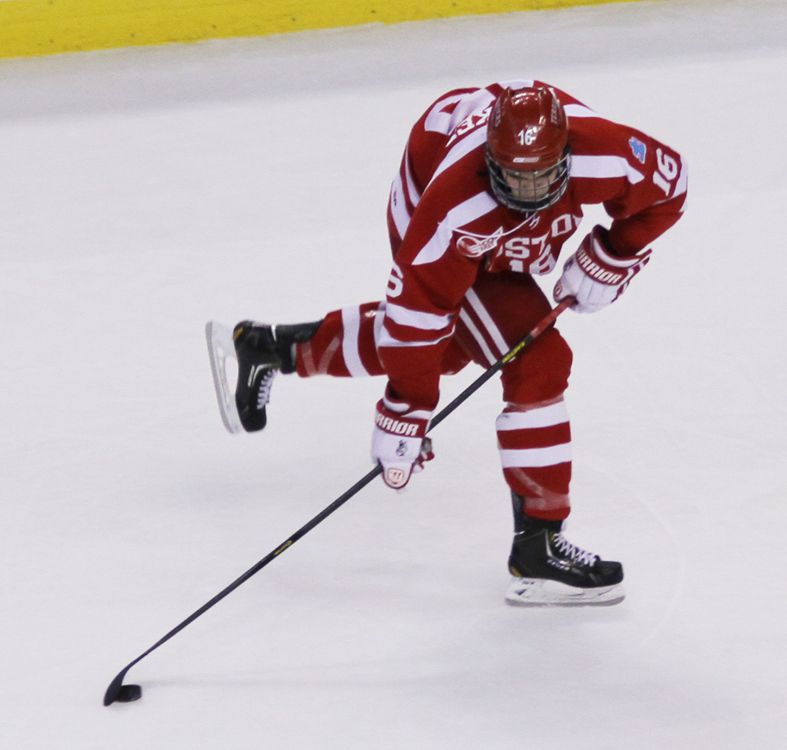 Sam Kurker. Copyright Daily Free Press, 2013
According to @smclaughlin9 , Sam Kurker has left BU, Indiana owns his rights in the USHL, where he is expected to go too. #BUMHocket
— WTBU Sports (@WTBUSports) January 14, 2014
No surprise, but Sam Kurker has been officially removed from the BU roster.
— Mike McMahon (@MikeMcMahonCHN) January 14, 2014
Power Play with CJ: Sam Kurker Leaving BU http://t.co/IjXEHSKqg1
— Power Play With CJ (@powerplaywithCJ) January 14, 2014
News broke last night that BU sophomore forward Sam Kurker left the program to play elsewhere. The prevailing sentiment is that Kurker will be going to the USHL, where the Indiana Ice own his rights. Other possible destinations include Quebec Major Juniors, where the Remparts own his rights, or the USPHL. Through 12 games this season, Sam had 1 goal, 7 penalties for 14 penalty minutes, and was a -2. As a freshman last year, he posted a 3-2-5 line in 35 games played to go along with 61 penalty minutes. Kurker was a 2nd round pick of the St. Louis Blues in 2012 right out of St. John's Prep.
Sam's on-ice woes at BU were well documented. A highly touted power forward out of high school, his freshman year saw him struggle to adjust to the speed of the college game with the stats to match. The first half of this year was much of the same, although he missed a number of games with mono (according to Coach Quinn). Overall, it seemed like Sam just never caught up to the pace and style of the college game. A year in the USHL following his run at SJP probably would have done him some good in terms of getting his skating speed up while also facing a tougher challenge than he saw in Catholic Conference play. However, Sam and his family pushed BU to take him straight out of high school when BU suggested a year in the USHL and even (supposedly) leveraged his high draft pick and threatened to de-commit if BU did not take him for the fall of 2012.
BU is now left with 20 skaters (19 with Grzelcyk injured) and 12 true forwards, two of whom - Moscatel and Rodrigues - are currently injured.
Kurker's midseason departure sparked a raft of discussion about BU's supposed "problem" with midseason departures, as this marks the fourth straight season with one. I don't really have answer to whether or not there's an underlying issue in BU's program. BU certainly seems to have had more than their fair share of dismissals and departures over the past few years, but it's hard to tell how many of those would have happened anywhere and how many happened because of a unique set of circumstances at BU. We've compiled some of the more recent departures below, let us know in the comments what you think. Is there a serious problem with dismissals/early departures at BU?
2009-2010

Vinny Saponari
,
Victor Saponari
- The Saponari brothers were dismissed from the team for "cumulative transgressions" but the final straw was skipping a team-wide mandatory disciplinary bike ride. The bike rides began in March after 13-15 players went out and drank on St. Patrick's Day, only two days before BU took on Maine in the Hockey East Semifinals (a game BU lost). Corey Trivino was suspended for 3 games to start the 2010-11 season as a result of the same incident.
2010-2011
Andrew Glass
- Glass was an interesting one. At a time when BU was short on depth at the forward position, Jack Parker dismissed Glass again for "cumulative transgressions" that included numerous missed meetings and being late to team events. Glass claimed that he had only missed optional workouts during finals week, and had been warned about being late only once.
2011-2012
Max Nicastro
,
Corey Trivino
,
Charlie Coyle
- This season was, for lack of a better phrase, a shitshow. The departures began with Trivino, who was given the boot for - you guessed it - cumulative trangressions, the last of which being the biggest. Trivino was charged with assault to rape, indecent assault and battery and breaking and entering after drunkenly forcing his way into an RA's room, attempting to kiss and grope her, taking his shoes off and getting into her bed. Whew. Nicastro was kicked off the team for allegedly raping a female student (the charges were later dropped due to lack of evidence) just two months after Trivino's incident. Charlie Coyle was the only one of the three to leave BU under his own will. He left the team for Quebec Major Junior just 3 days after Trivino's arrest. While the exact reasoning behind Coyle's departure is unknown, it was widely speculated that poor grades were the motivating factor, but we here have been told that the impetus came from the Minnesota Wild and their displeasure with his development at BU.
2012-13
Yasin Cisse
,
Wes Myron
,
Alexx Privitera
- A little less drama this year, but only a little. Cisse left the team in early December for the Q after underperforming for much of his time at BU. Cisse was reportedly unhappy with his playing time and his own progression at BU and decided to try his hand elsewhere. Probably doesn't hurt that he's from Quebec. Myron left the team for the ECHL in February after registering only 3 points in 21 games to that point. His departure was a bit of a head scratcher, but it seemed to stem from his lack of ice time and frustration with the college game in general. Privy actually left the team at the end of the season, but was suspended for the duration during the second semester after repeated warnings/short suspensions for taking bad penalties. The final straw came during the Beanpot consolation game against Harvard, where Alexx took a 5 minute kneeing major and a 10 minute game misconduct to match. Following the end of the season and Coach Parker's retirement, Privy decided to leave the program and head to the USHL.