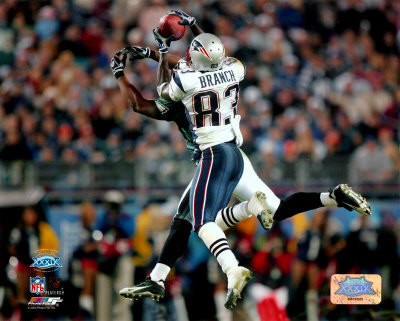 According
to the Seattle Times
, the Patriots and Seahawks are in talks to develop a deal which would bring wide receiver Deion Branch back to New England. As the Times points out, this deal makes a good amount of sense considering the Patriots need for another quality receiver and the Seahawks need for some draft picks (the Pats have 2 per round for the first 4 rounds of next years draft). Branch, of course, was drafted by the Patriots in the 2nd round of the 2002 draft, and stayed with team until the start of the 2006 season. Branch infamously held out of camp over the summer of 2006 and was seen as such a lost cause that the Patriots allowed Branch to seek a trade to another team. This team ended up being the Seattle Seahawks, for whom he still plays. In his 4 seasons with the Patriots, Branch compiled 213 receptions, 2,744 yards, and 14 touchdowns. He also was named Super Bowl MVP in 2005 after recording 11 catches for 133 yards (He won the Super Bowl in 2004 with the Pats as well).
Since going to the Seahawks, Branch hasn't really been that impressive. He missed games in 2007 and 2008 with injuries, and thus far this season only has 13 receptions for 112 yards and 1 touchdown. However, it was no secret that during his time in New England he was Tom Brady's favorite receiver, so perhaps the Patriots are hoping Branch and Brady can rekindle their offensive fire from 2004 and 2005. Branch has also said that he would go back to New England if the opportunity ever presented itself. Couple that with the fact that there are rumors of Tom Brady reaching out to Branch over the past week, and we may have ourselves a ball game.
To be fair, the Boston Herald is saying that there are no talks in progress, just basic discussions between the two teams. But the day I consider the Boston Herald a worthwhile source of information is a sad, sad day. So I'm going to ignore them.