Rhett the Scarlet-nosed Reindeer had a very cold and wet nose
And if you saw

BC

play, you would say that their team blows
All of the other mascots used to laugh and call him names...
And then Rhett cross-checked them into the boards and they shut the fuck up.
Who's laughing now?
The end.
[warning: this post is long as FUCK but has media in it to spice up my stupid boring rambles]
[hopefully you pre-planned this as a study break or you're not finishing that paper tonight]
It's the
second least
wonderful time of the year, Terrier fans. With the break between semesters, it'll be another 26 days before before residences open up again. And because the Terriers are on the road in North Andover that Friday, it's an additional week before the best fans in cawlidge hawkey are back in Agganis to cheer on the best team in cawlidge hawkey. That is
way
too long. Longer than it'll take to read this fucking blog, even. For some of you, the Denver trip will provide a sorely-needed hockey fix during the break. Unfortunately, my budget
excludes me
from what I'm sure will be an awesome road trip.
To that end, I decided to make a Christmas wish-list on behalf of all applicable Terrier fans. If you don't celebrate Christmas, that's cool. I don't really care and you shouldn't expect a separate post for the top ten Terrier Kwanzaa prayers or something. I don't believe in the "
War on Christmas
" and this isn't some holy war powerplay. I'm not even religious. I celebrate Christmas commercially, taking advantage of gift-giving traditions, gratuitous partying and holidays with time-and-a-half pay rates. So if you're the kind of person that gets offended by the fact that this has to do with Christmas, do me a favor. Blow it out your ass. Happy holidays. And with all that shit in mind:
1.
Alabama-Huntsville Defeats
Boston College
on December 29th in the Mariucci Classic. As some of you may already know, the Ala-Huntsville Chargers are the slight underdogs in this matchup, currently sporting a 1-12-1 record. Not exactly vaulting to the top of the polls.
Newton/Chestnut Hill Community College
will enter the tournament with a 11-2-1 record on the season after tying the PC Friars in a fantastic game down in Providence on Dec. 7th. Jerry York was 10.5 seconds away from capturing Ron Mason's all-time coaching wins record. And then our #FavoriteSieve
@LilMilzy35
allowed Friar freshman forward Nick Saracino's first collegiate goal, forcing overtime and further delaying York's glory. The Friars held strong through OT and forced
NCHCC
to wait 22 more days before another chance at shitting all over themselves on the ice.
Part of me wants to talk about how tainted the record is because of the amount of time York spent at Bowling Green (where even QQ could break records coaching). The same part of me wants to point out the fact that his lower winning percentage (.616 to Mason's .696 and Parker's .645) means that the record has more to do with (pulpy) career longevity and the raw quantity of games played, and less to do with quality of coaching. But really, it's a pretty impressive achievement.
Yes, Jerry York is a horse's ass. But he's a horse's ass who's been more than pretty good at his job for a very long time, and that deserves recognition. It's an unfortunate kick in the dick of Coach Mason that the record will almost certainly be broken against a team as shitty as Alabama-Huntsville, though. It's like scoring your 895th NHL goal, surpassing the Great One, by scoring a hat trick against the Park County Pee Wee hockey team.
But yeah, it would be fuckin'
delicious
to see
NCHCC
lose that game. Santa, please make it happen.
A Powerplay That Actually Works
- The Terrier powerplay is currently 10 for 67 on the man advantage. That translates to a 14.93% success rate, which is good enough for 37th in the nation. Unacceptable. A team with this much skill should be making its opponents pay harder for taking penalties. For perspective,
NCHCC
is 2nd with 27.42% (17/62) and Union College has the nation's most potent powerplay, at a ridiculous 31.25% (20/64). I would be satisfied with a 20% PP rate but BU should shoot to achieve 25% in the second half of the season, especially given the softer remaining schedule. There are certain things you can't do on the ice and our opponents deserve to be punished for breaking the rules, beyond the standard two minutes of shame.
Beat Denver on the 29th

- A month ago, this was one of

the biggest games on the BU schedule, and the biggest in the second half of the season with the possible exception of a
NCHCC
matchup in the Beanpot next February. Denver has steadily dropped in the polls, from #2 as recently as a month ago to #11. I don't want to be that guy that makes a big deal out of polls. We're almost at the point of the season when the Pairwise carries a lot of weight, which will be nice. But the drop does correspond with a terrible Pioneers record over the last month.
Denver's best wins of the season came against (then #14) Colorado College in a home and home sweep. But the Pioneers haven't won a game since. After the weekend of Nov. 17th, Denver is 0-5-3. While the slump includes losses to Yale, NoDak, and UNH, the Pioneers also took only one point out of a weekend at Bemidji State. Last week I said that they haven't really shit the bed lately, just haven't been able to come together to beat tough opponents. After this weekend, I'm not sure what to think of them. Denver has two weeks to shake it off and great ready to host the Terriers.
Right now, BU is ranked #5 in the all-important
Pairwise
system and #3 in the laughable
KRACH
system, which literally stands for "Ken's Ratings for American College Hockey" (Get over yourself, Ken. You asshole.) and comes with a disclaimer on USCHO.com stating "
KRACH is provided for entertainment purposes only and is not used in any official way, nor is it endorsed by USCHO.com". BU
also is
way
ahead of the rest of the pack in terms of strength-of-schedule rating in the nation after one semester. Expect that ranking to drop in our cushier spring semester. DU, meanwhile, is tied for 15th with
Niagara
and Colgate in the PWR and 14th in the KRACH (11th in SOS) rankings.
All in all,
Denver
has a very tough team
when
they play to their potential. A very good goaltending tandem in Olkinuora and Brittain (who has battled past injuries and has lingering knee problems) has split starts behind a stout defense and skilled forwards. In their most recent loss, Denver started sophomore goaltender Adam Murray (2-1, 2.00, .935). Denver, like Maine, is a team that lately hasn't been playing the way they should. And it's just as important not to let them off the hook.
Beating them on the road in Colorado would be a nice exclamation point to end a very strong semester for BU hockey and holds big Pairwise implications.

Win the Beanpot - We have not won the Beanpot since 2009. Which means that most of you weren't there the last time it happened. Unacceptable. This is the year when we Finnish (yes, I'm calling Ahti with the GWG right now). BU is set to face Northeastern in the first round this year, which is the best case scenario.
NCHCC
will almost certainly beat Harvard, and everyone knows that a BU/
NCHCC
matchup is the real reason why anyone watches the Beanpot.
NCHCC
has won the last three Beanpots, including last year's 3-2 win over the Terriers with 6.4 seconds left in the first OT. I WANT BLOOD.
Undefeated Spring Semester
- This one isn't actually as tall of an order as you all might think. QQ in particular is very much on-board with this idea. Let's look quickly at the teams we're facing in 2013 (Beanpot aside):
RPI
Harvard
Merrihack x2
NorthLeastern x3
UMass LOL x3
PC x2
UMass Amherst
Maine x2
UVM x2
And that's it. That's the whole rest of the season's games, almost all of which are against HEA opponents with poor fall semester performances. I'm going to appease the cynics and give you three games that I think could interfere with my plan. If anyone could screw this up for me it's PC and Harvard. RPI is the team with which I'm least familiar off the top of my head here. But after a quick 20 seconds of research I've found that they are 4-6-4 in the ECAC which is not impressive, even if they beat Yale 6-1. Plus, their mascot is a
giant foam puck
that wears a hat and mitts and skates, carries a stick and smacks around other pucks on the RPI ice. SERIOUSLY.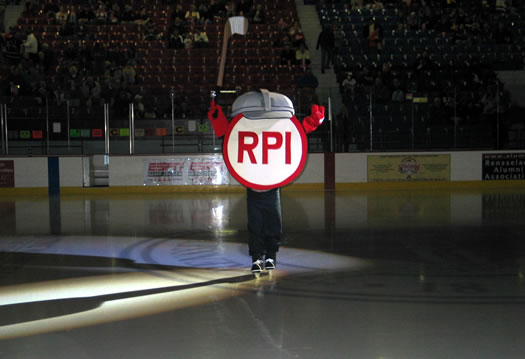 Record crowds on hand for the banner-hanging of RPI's Stupidest Mascot in NCAA Hockey championship
That's even worse than
Mr. Met
, because at least he has a torso, and facial features sewn onto his stupid head based off of a piece of equipment used in the sport he's supporting. And BSRS does not ever endorse puck-on-puck violence. So yeah, the Friars and the Crimson are the two teams I could see surprising BU with a hard-fought game (especially the game in Providence if Gillies can stand on his head). Initially, I wanted to give Maine the benefit of the doubt with back to back games on their home ice up in Orono. But after Maine played their hardest last Saturday only to get shut out, I don't see them stepping up again to catch BU off guard. The Terriers will be ready this time. Throw me a bone, Santa(na).
No More Departures
- For real. Now that Cisse has defected to Quebec (He's in the shit now boys!), the lines could become dangerously thin if the roster is altered much more moving forward. Let's reduce the roster turnover rate and introduce some consistency in the lines.
Back to the Frozen Four

(and beyond)
-
Anyone but John Gaudreau Wins the Hobey Baker Wward
- Seriously. Fuck Johnny Gaudreau. The fact that he's 5'6 which apparently makes diving totally fine to HEA officials is infuriating. Someone either give them an hour-long physics lesson on how that body should react to hits, or tell Texas Toast to do the same thing. Even worse, though, is having to plan what kind of shoes I wear to Conte Forum so that I don't slip and fall because Superfans are drooling over Gaudreau all over campus. Sickening. Every time someone even indirectly mentions the Twitter hashtag #GaudreaubyBaker, I want everything that happens to anyone in this video to happen to that person:
And that goes
double
for anyone that refers to Gaudreau as
"Johnny Hockey"
. Actually, let's reserve for that offense the following punishment:
According to CBSSports' most recent Hobey Baker Award Watch edition, the Eaglet still leads the pack of favored contenders. But on his heels are
Kyle Flanagan
,
Kevin Goumas
and
Brett Gensler
, all of whom have a secret advantage over Gaudreau that trumps any performance of his to come: none of them go to
NCHCC
and thus cannot suck any more than Gaudreau and his teammates already do.
In conclusion, fuck
NCHCC
. If you ever see someone wearing one of these shirts...
...kindly do me a favor and
say any of these things to them
.
An Official Red Ryder Carbine-Action 200-Shot Range Model Air Rifle with a compass in the stock and this thing which tells time
BECAUSE REASONS. And if you haven't seen A Christmas Story, please tweet at @bsrs_blog or email us with your information so that we can look into banning you from the blog forever.